Dental Veneers in Bayport, MN
Your Home for a Beautiful Smile
Discover the Difference at Jensen Family Dental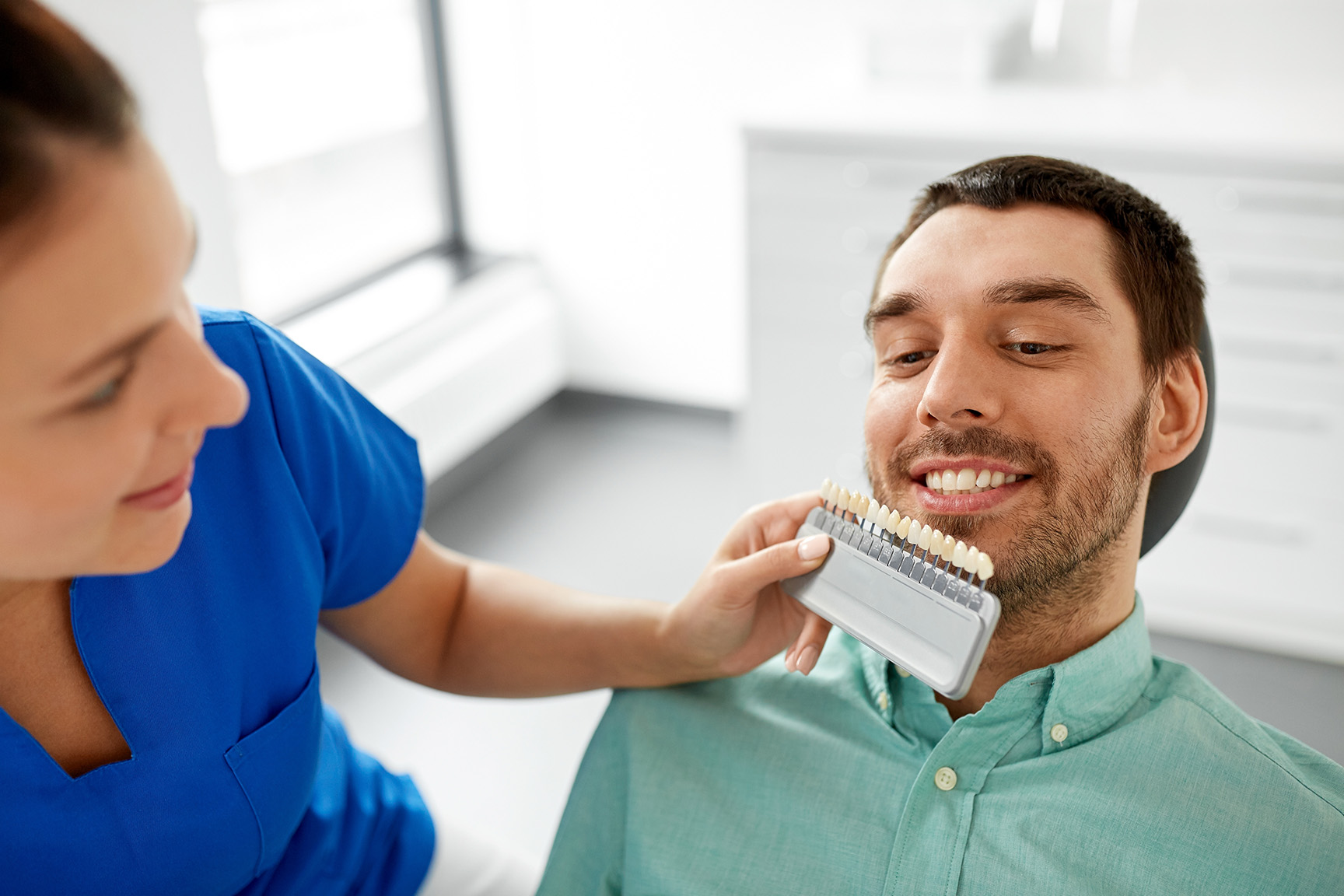 What are dental veneers?
Porcelain veneers (sometimes called dental veneers, dental porcelain laminates, or cosmetic veneers) are thin, custom-made restorations that sit on top of your natural teeth. Their natural, tooth-like appearance makes them perfect for treating cosmetic concerns like stained, discolored, chipped, broken, or smaller-than-average teeth.  
Who is a good candidate for veneers?
Individuals who have teeth with very few restorations, who don't grind their teeth, and who have mild to moderate spacing issues can be good candidates for cosmetic veneers. Some people may only get one veneer, but many choose to get between six to eight veneers in order to achieve an even smile. To discover what works best for you, schedule a visit at Jensen Family Dental, and we will evaluate your unique case to determine the best course of action.
What are the benefits of dental veneers?
Jensen Family Dental can prepare dental veneers on teeth while preserving much of the natural tooth structure. They are usually very highly esthetic and tooth-like. There are three main benefits of dental veneers: 
Whiten Your Smile

There are many reasons why teeth become discolored or stained over time. Stained enamel can be bleached back to white, but this doesn't stop your teeth from becoming stained again. If you're looking for a way to whiten your smile permanently, Jensen Family Dental's porcelain veneers might be a great fit for you. 

Replace Damaged Enamel

Though enamel is strong, it is not indestructible, and there are many reasons why your enamel might be worn down over time. Excessive tooth brushing or highly acidic foods and drinks are common reasons enamel becomes worn down over time. Lost enamel doesn't grow back, but fortunately, you can replace it. Veneers are an excellent option for treatment if you have enamel abrasion or enamel erosion.

Resolve Minor Cosmetic Concerns

Dental veneers

can help correct many cosmetic issues. Their most significant benefit is improving the appearance of your teeth, giving you a more even, brighter smile. If you have gaps between your teeth, or even chipped, cracked, discolored, or minorly misaligned teeth, veneers could be an excellent option for you. While veneers don't change the position of your natural teeth, they do effectively conceal minor orthodontic problems once they're applied. Only you and your dentist will ever know about that little chip on your tooth!
How long do tooth veneers last?
Porcelain veneers are highly durable and great at resisting stains. Depending on a person's hygiene and oral habits, veneers can last over ten years. They may last up to 15 years with the proper care. Flossing, brushing with a soft-bristled brush, using a non-abrasive fluoride toothpaste, and regularly visiting your dentist are important habits to maintain. Avoid whitening products because they can scratch your veneers, and avoid biting directly into hard foods like apples, carrots, and tougher meats. Instead, cut up these foods and use your back teeth to chew them.
How much do cosmetic veneers usually cost?
Veneers will be the same cost as a crown. Sometimes insurance will cover the cost of a veneer, but they are often seen as cosmetic restorations, so the coverage may be minimal. To be sure, ask your dental insurance company if veneers are covered. 
What are the steps for placing veneers?
First, we take color/shade match photos to ensure the proper color of the veneer.  Then, in the second appointment, we prepare the tooth for the veneer. We take a final impression and place a temporary restoration over the tooth. The third appointment involves securing the veneer onto the tooth. One tooth or multiple teeth can undergo the veneering process at the same time.
Schedule an Appointment for Dental Veeners in Bayport, MN, Today!
Jensen Family Dental offers a personal approach to dentistry. Dr. Nathan Jensen and our friendly, supportive staff work together to ensure your needs and goals are met. And with treatment plans tailored to you, Jensen Family Dental is your best choice for dental veneers in Bayport, MN. If you have stained, discolored, chipped, broken, or smaller-than-average teeth, schedule an appointment today and discover solutions that work for you.